SiS's new products integrate projected capacitive touch sensors and Microchip's award-winning GestIC 3D gesture technology
This article refers to the address: http://
21ic News Microchip Technology Inc. announced that it has partnered with SiS Technology Co., Ltd. (SiS) to provide customers with complete projected capacitive touch (PCAP) and 3D gesture interface modules to accelerate development. And reduce costs. With these modules, developers can more easily use Microchip's award-winning GestIC technology to design multi-touch and 3D gesture display applications. GestIC technology enables hand tracking up to 20 cm away from the display surface. The advantages of gestures are versatility, hygiene and ease of learning. By eliminating the need for precise hand-eye coordination, the use of gestures can also greatly improve security.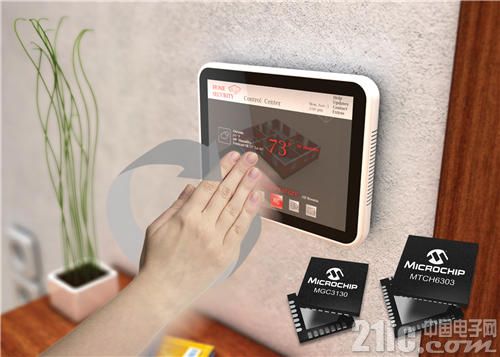 Microchip has developed GestIC technology that makes it easy to integrate with multi-touch PCAP controllers. GestIC technology is currently the lowest cost 3D gesture technology on the market. In addition, the GestIC sensor is constructed using standard materials and production methods such as glass or foil covered with indium tin oxide (ITO), metal mesh, and conductive ink. The new SiS module is the world's first complete solution for display applications, integrating 2D PCAP and 3D gesture technology. SiS has 30 years of experience and expertise in PC chipset products, eMMC, eMCP and projected capacitive touch solutions. In this collaboration with Microchip, SiS will be responsible for electronic development and sensor integration. The modules developed by the two parties will help speed up the time-to-market and apply to a wide range of applications including automotive and consumer industries.
Dr. Roland Aubauer, Director of Human Interfaces at Microchip, said: "We are pleased to partner with SiS to meet the growing demand for 3D control display applications in the consumer, automotive, home automation and IoT markets. Microchip is committed to continuous improvement With the innovation of human-machine interface technology, the SiS module will eventually enable our customers to integrate these two interface technologies into their applications more quickly. Through this collaboration, a new generation of intuitive, gesture-based user interface products are now available. Can be applied to a variety of end products."
Mr. Xu Shizhong, General Manager of SiS, said: "We are very honored to have the opportunity to cooperate with world-class companies such as Microchip. At the same time, we are also very pleased to bring you the world's first 2D/3D technology combined solutions. Cooperation, we can foresee the market demand and market share of these new products will increase significantly. SiS is committed to bringing innovative, intuitive and creative technology to everyone, and this cooperation is a good example. "
The SiS module with Microchip GestIC technology was unveiled at the Consumer Electronics Show (CES) Microchip booth (Booth #MP25656) at the Consumer Electronics Show (CES) in Las Vegas, Nevada, USA from January 6th to 9th, 2016.
Track Light Price,Outdoor Track Lighting,Commercial Track Lighting,Led Track Lighting Systems
Jiangmen Liangtu Photoelectric Technology Co., Ltd. , https://www.liangtulight.com