The wearable exoskeleton is a machine made up of an exoskeleton-like frame that can be worn by people. It involves cross-scientific knowledge of biokinetics, robotics, information science, artificial intelligence, etc. This equipment can provide extra energy. For the limbs, to assist the human body to complete the action that cannot be completed by natural forces.
Although the technique of exoskeletons has gradually come to life from sci-fi works, it is still very cutting-edge, and only a few people can use it. 28-year-old Steve Sanchez is one of them.
The wearable exoskeleton used by Steve Sanchez was developed by US SuitX. The early beneficiaries of this system were also testers. He suffered a serious back injury in a BMX accident 10 years ago, and later Life is almost inseparable from wheelchairs.
After learning about SunX's development of the wearable exoskeleton Phoenix, Steve Sanchez was very excited and very willing to try it, so he went to Phoenix to visit, and after only half an hour he walked out wearing a device like a normal person. .
"It feels like an unprecedented release. I can stand up and feel my legs moving. He gets me out of the wheelchair and doesn't fear to use it," Steve Sanchez said in an interview with tech blog Mashable.
The wearable exoskeleton Phoenix is ​​enough to support Sanchez's body, although the speed of movement is relatively slow, but it brings him unprecedented hope.
Phoenix's Chinese literal translation is "Phoenix", which is actually a Chinese style. It is a very lightweight, modular exoskeleton developed by the ergonomics and robotics lab at the University of California at Berkeley five years ago. Come out, the parent company SuntX was founded by Berkeley researcher Homayoon Kazerooni.
According to Dr. Kazerooni, the SuitX Phoenix exoskeleton is fully customizable and can be adjusted to a variety of weights, heights and leg sizes. It prepares two crutches for the wearer, including the "walk or not go" and "sit" or "stand" buttons, press these buttons to send a message to the hip actuator, the wearer can press each step forward Or use a continuous walking mode.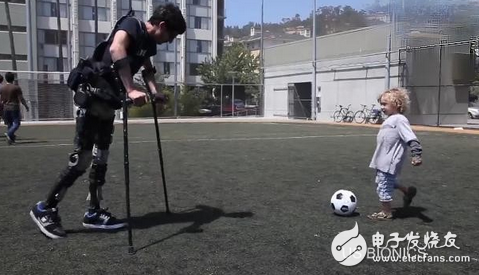 The SuitX team has undergone a lot of engineering and mechanical calculations for Phoenix, which emphasizes the intelligence of the software part more than hardware, removes as many sensors as possible, and uses algorithms to infer more information by measuring as few measurements as possible. The advantage is that the cost is much lower.
Phoenix's system is also modular, and the knees, ankles and buttocks can be used individually as needed. Just relying on Phoenix to walk, the speed is about 1.8 kilometers per hour, and its battery can support 8 hours of action time, including the battery weighs only 12 kilograms.
Phoenix has not yet obtained permission from the US Food and Drug Administration (FDA), they are going to sell for $40,000, which is nearly half the price of the $70,000 device sold by ReWalk, and SuitX decided to Phoenix is ​​being rolled out to the wider world for use by a wider range of family patients, with the fastest available products for adults in March of this year.
compact universal lever connector, perfect for tight spaces
transparent housing for visual inspection of connection
reusable
P04 Series Push Wire Connectors
Lever Nut Wire Connector,Transparent Enclosure Terminal Blocks,5 Poles Push Wire Connectors,Building Technology Wire Connectors
Jiangmen Krealux Electrical Appliances Co.,Ltd. , https://www.krealux-online.com