Since its official release in November 2014, Amazon's Echo smart speakers are over two years old. In the past two years, it has evolved from one of the most popular "newborns" at the beginning to one of the hottest smart home products on the market today.
In fact, many media have rated Echo as "a phenomenal revolutionary product".

Latest report from CIRP
According to the latest report released by consumer intelligence research partner CIRP (Consumer Intelligence Research Partners), as of November 21, 2016, the Echo series has sold 5.1 million units in the United States. In the report released by CIRP in April 2016, Echo's sales in the US have reached 3 million units; that is, in seven and a half months, Echo's sales have increased by more than 2 million units. According to CIRP estimates, Amazon sold about 2 million Echo devices in the first nine months of 2016. In addition to the increase in sales, the recognition of Echo series equipment has also been greatly improved; from March 2015 to September 2016, US consumers' awareness of Echo equipment has increased from 20% to 69%. Especially in the past year, Echo's awareness has increased most clearly.
CIRP also investigated the Echo user's device usage. According to the survey, users are more diverse in their use based on Echo's multiple uses; about one-third of them use it to query information or answer questions, and 40% use it to listen to music, 10% The above users will use it to control home appliances.
According to the CRIP:
Our research report shows that more than half of Echo users will not use it as an audio player. They are also willing to try to use it to check the weather and news, and more and more people are willing to use it to connect and control the devices in the home. This report is undoubtedly good news for Amazon, which has been trying to grasp the artificial intelligence portal and smart home portal through the Echo series of devices.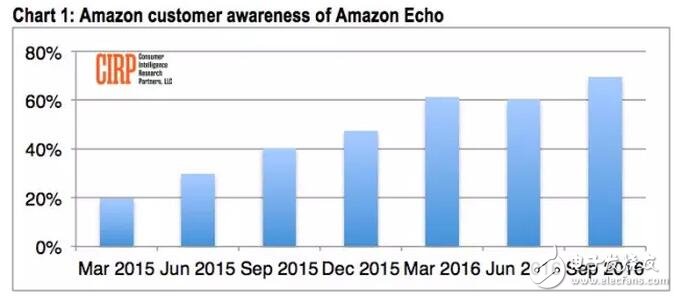 After the release of Echo, Amazon was not eager to push it to the mass market, but invited a group of users to test. The first batch of users invited for the beta test were mainly selected from the Prime members; and the price was also discounted, and the Prime member could purchase the Echo speaker for the original price of $199 for $99. Previously, at the beginning of Prime members and other products, Amazon also used the method of inviting internal testing to test and improve early products. For Echo speakers, Amazon is also good at listening to feedback from internal users, and through these comments, Echo has made important improvements. For example, in the early product planning of the Echo team, the control of electrical equipment in the home was not used as a functional point of Echo and the built-in artificial intelligence assistant Alexa; in the official introduction video of Echo when it was first released, this function was fundamental. Not mentioned. But through feedback from users, the Echo team found that consumers are very interested in this feature, and this feature just fits the trend of smart home. So in June 2015, Amazon announced the opening of Echo to developers, the development of a package for Alexa and Echo, and invited some electrical equipment manufacturers to join.

Of course, in addition to the above suggestions, the beta users also provided some voice test data for Amazon to help Amazon Echo achieve a clearer voice recognition in the home environment. In July 2015, after a series of product improvements and capacity improvements, Amazon announced that Echo speakers were officially open for purchase, and the price adjustment was adjusted from the initial $199 to $179.
Floor line and price reduction
Although Echo was very popular during the beta period, Echo's sales did not show a spurt of growth during the initial period of Amazon's open sales. Even in August and September, Echo's sales on Amazon's official website appeared. A small decline.
But according to the online statistics of Slice Intelligence, Echo's sales have ushered in a blowout since October 2015 and reached a climax in November. This explosive growth is accompanied by the increasing functionality of Alexa after its opening, such as Prime Music, Audible Audio Books, Google Calendar, etc., but also related to Amazon's actions during the Christmas shopping season. On November 10, 2015, Amazon announced that in the Christmas shopping season flagship, consumers will be able to purchase Echo smart speakers in more than 3,000 offline retail stores across the United States, including chain stores such as The Home Depot, Staples, Sears. In this way, consumers can experience the charm of Echo speakers online beforehand, and finally decide whether to buy; this is an effective increase in the sales of Echo speakers. Later, when Amazon opened a physical bookstore in Seattle, it also brought Echo speakers there. Of course, the most effective way to promote Echo's sales growth is to cut prices.

On November 24th, 2015, Amazon announced the sale of a variety of products, including its own, on the occasion of the US "Monday". The first place in the price reduction list is the Echo smart speaker, whose price is from From $179 to $149. In addition to this price reduction, Amazon has partnered with a number of third-party appliance manufacturers to bundle Echo speakers and third-party appliances that are compatible with them at a discounted price. This will not only increase the sales of Echo, but also enable more users to experience the function of using Echo to control home appliances. In addition, in order to highlight the value of Echo, Amazon has provided Echo users with a monthly subscription price of as low as $3.99 in the latest Amazon Music Unlimited service with a monthly subscription price of $9.99, and comes with an Alexa based artificial intelligence assistant. Smart music recommendation service. This will also increase the appeal of Echo speakers to users.


Lifepo4 Battery Pack,Lfp Power System For Agv,18650 Battery,Lithium Battery Pack For Agv
Henan Xintaihang Power Source Co.,Ltd , https://www.taihangbattery.com